Governments can be reluctant to adopt policies to prevent cancer, even when there is clear evidence for action. Reasons for this include lobbying by industries pro?ting from products such as tobacco, alcohol, junk food, and the absence of an active constituency for prevention.
Evidence alone is rarely enough to move politicians to action, particularly if there are strong pro?t-driven industry interests. But this can be countered using a resource that already exists in our communities – people power. We need to convert latent support into community action, to show politicians that there is public interest in prevention.
Cancer Council NSW has supported consumer advocacy and grassroots campaigning for over a decade. There are three situations where grassroots campaigning and community activism is particularly effective in shifting prevention policy.
The three activism opportunities are:
1) Where there is industry opposition to proposed prevention measures
In April 2008, the New South Wales (NSW) Government proposed putting tobacco out of sight in retail outlets, consistent with evidence about the impact of displays on smoking behaviour. Predictably, the tobacco industry objected, and urged retailers to do the same. Our challenge was to show the government that the community supported the measure.
Surveys found that around 90 per cent of the community agreed that cigarettes should be stored out of sight of children.1 Our focus was on encouraging the community to actively express their support for the move. During the campaign:
Over 6,500 community members made submissions supporting the proposal to put tobacco out of sight in shops. This accounted for around 50 per cent of the submissions received by government.
We know of at least 150 people who phoned their MP asking them to support the proposal.
Three community members addressed the Parliamentary Forum on the matter. One young person spoke about having friends who smoked and were trying to give up. Two mothers of young children shared their hopes and fears for the future health of their children. One of these mothers presented letters from children in her son's class.
Every Cabinet Minister was contacted by at least one constituent, asking them to prioritise children's health over the interests of big tobacco.
In July 2008, the Premier announced a ban on tobacco displays in NSW. Verity Firth, the Minister responsible at the time, argues that "if you want to defeat big money interests, you need to show public support." She noted that community activism was key to securing these reforms: "We knew that we had to build community momentum, and this is where Cancer Council NSW was absolutely brilliant and organised on the ground. They had events at schools, rallied their membership, created media opportunities."2
2) When policy processes lead nowhere
Prevention issues tend to not be a high priority for governments. For example, the NSW Department of Education had not updated its sun protection guidelines for 15 years. Cancer Council had raised the issue with the Department for over five years, with no progress.
In 2012, we launched a campaign with community delegations to 35 Parliamentarians in a single day. During the campaign, community advocates conducted a further 38 delegations to Parliamentarians. Over 2,200 people "chalked" a message to the Minister for Education, which we collated into a photo album and presented to the Minister in person.3 The campaign also included media advocacy, and strategic research with parents of school-aged children.
The Minister ?nalised a new set of guidelines for sun protection in schools within one year of launching the community campaign, an outcome that we had been unable to achieve during years of organisational engagement through government channels.
3) To demonstrate community support for an issue that is not on the policy agenda
Sometimes evidence and community opinion is far ahead of political readiness to act. In these situations, grassroots action can be important in helping place new prevention opportunities on the policy agenda.
One example of this is the new frontier in tobacco control – addressing the ubiquitous availability of tobacco for sale throughout the community. The public health sector has recognised that there is a need to address the easy supply of tobacco. However, the tobacco industry will be vigorous in opposing anything that endangers the basis of its distribution strategy.
In 2012, Cancer Council NSW wanted to show policy makers that the community wanted action on this issue.
During the campaign, over 7,000 photos were taken of people with the 'harmful not helpful' sign, with some participants sending the photos to their MPs via email or social media. Advocates met with their local MPs 34 times to express their concerns about retail availability, and asked their MPs to take the photo pledge of 'harmful not helpful'.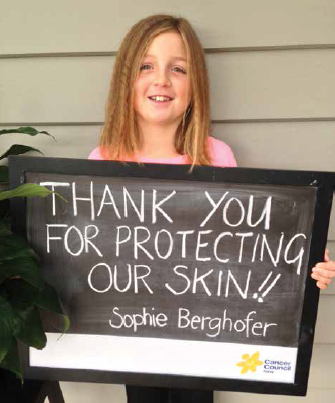 The community action was designed to raise awareness of MPs about the issue and secure their agreement that it needed to be addressed. The meetings also helped identify potential political champions for policy change in this area.
The Cancer Council NSW has been able to engage and mobilise people in campaigns for prevention policies because it has invested in developing training and supporting community advocates. Since 2002, Cancer Council NSW has trained consumers for advocacy, established local cancer advocacy networks, and developed advocacy leadership roles for volunteers.
The CanAct Community is now an organised network of over 18,000 individuals (often cancer survivors, carers or friends) forming an active constituency for cancer issues in NSW. It provides an important counterweight to the industries that pro?t from harmful products. Members are 'ordinary people' who would not have considered themselves activists until they realised that their voice could make a difference.
Community advocacy helped secure multiple prevention wins in NSW. It will be important in the battles ahead around junk food marketing, alcohol, and the retail availability of tobacco.
Public health organisations need to build an effective constituency around prevention. People power complements the advocacy of public health organisations and helps ensure that politicians consider community interest when deciding on policy.
---
Cotter, T., Perez, D., Dessaix, A., Crawford, J., Denney, J., Murphy, M., & Bishop, J.F. (2008). NSW smokers' attitudes and beliefs: Changes over 3 years. Sydney: Cancer Institute NSW
The Hon Verity Firth, former Minister for Cancer, at the University of Sydney School of Public Health Research Presentation Day 28 September 2015
This was a blackboard photo petition: people wrote a message about the issue on a small blackboard and had their photo taken with the message
---
This post was first published in the Consumers Health Forum of Australia journal, Health Voices, Issue 17, November 2015