The collision of human culture with digital technology is a corporate marketing dream and a regulation nightmare. This union has also given birth to the internet influencer, who is the latest, most powerful weapon used by alcohol brands to continuously predict, target, track and woo consumers.
This phenomenon of internet celebrity was the catalyst for a series of edifying and significant research insights on digital marketing delivered at a recent forum at Parliament House in Canberra.
The forum, In their sights: The dark arts of digital alcohol marketing, also comprised a somewhat daunting panel discussion on the absolute lack of safeguards and policy settings to control online advertising of harmful products, especially alcohol, to vulnerable groups and children.
To explain the phenomenon of internet influencers, digital anthropologist and senior research fellow at Curtin University, Dr Crystal Abidin, offered seven 'provocations' to explain the nature of internet influencers, and why and how they are a successful tool for marketers to reach their audience at a granular level.
Using the term 'sponsored messages' rather than 'advertising', Dr Abidin provided context on the broad nature of social media influence ranging from the traditional promotion of shampoo and cat food, to more cerebral discussions around morality, euthanasia, climate change, alcohol advertising and addiction.
Dr Abidin explained that sponsored messages can be thought of very liberally in terms of their types of ideologies, products, or seeding sentiments that are shared, especially with young people.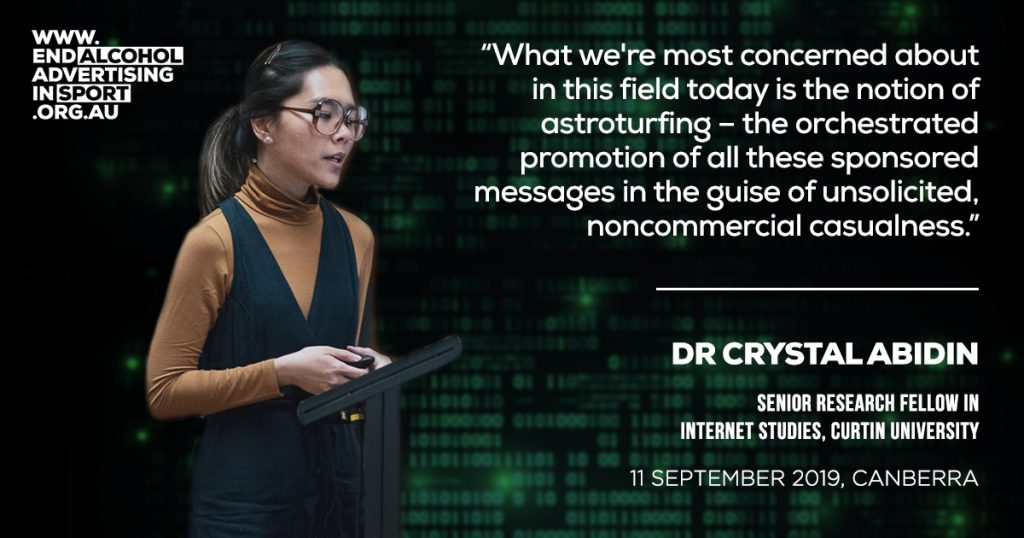 Her first provocation was that influencers are a relatable form of internet celebrity who can effectively seed opinions and disseminate messages. Dr Abidin made the contrast between internet influencers being highly relatable to their fans and the untouchable remoteness of traditional celebrities.
For brand endorsement, she said capitalising on the 'girl next door' relatability or affinity with social influencers was a successful method for marketing campaigns.
Dr Abidin's second provocation was that influencers are at the forefront of changing internet practices and cultures, and are found to be pioneering and disseminating new platforms, practices, campaigns and even catchphrases.
The proof is that mainstream media, having lost so many 'eyeballs' to the internet, are putting influencers on TV, cinema and radio to try to reconnect young people to mainstream media. Dr Abidin also referred to the generational power of the internet celebrities, with the phenomenon now moving into a secondary tier with the babies and children of influencers being exposed to audiences by default.
Dr Abidin's third provocation was that most influencers integrate sponsored messages into highly personalised 'advertorials'. She said they are "really excellent" at delivering extremely subjective messages that are highly personalised, highly persuasive, highly in tune with the lingo and the practice that they share with followers.
Dr Abidin used the example of an influencer posing alongside a bottle Absolut Vodka – a sponsored image among other 'ordinary' photos. Her point is the lack of clarity around paid product placement, which segued to her fourth provocation which was it is increasingly difficult to differentiate between sponsored endorsements and the personal opinion. Dr Abidin says what researchers are most concerned about is the notion of astroturfing – the orchestrated promotion of sponsored messages in the guise of unsolicited, non-commercial casualness, which come across as harmless personal opinion. For regulators the issue is that consumers, especially young people, are not in a position to exercise caution.
Her fifth provocation was that each social media platform has its own platform norm and culture, meaning that you cannot just assume that the most popular influencers are the most effective methods of marketing, as judged by comments or numbers.
Dr Abidin says alcohol brands and chains are also adopting social media advertising techniques from influencers as a way of circumventing existing advertising guidelines and regulations for traditional media such as TV or magazines. Elaborating on her sixth provocation, Dr Abidin says a lot of alcohol brands are mimicking influencers in the way they promote on social media, such as using platform-native ads. She told the forum that even if she was not looking for any of these contents, just by her search history and her algorithmic recommendations, platforms will just assume she's the right target audience for these messages and give her these ads.
Circling back to Dr Abidin's reference to the broader role of influencers sharing opinions on social issues, her final provocation was that influencers have impact beyond commerce and can partner with stakeholders to shift mindsets – offering a ray of optimism for public health campaigns.
Wrapping-up her high-energy presentation, Dr Abidin reiterated the scary truth that understanding and monitoring digital platforms and online marketing will always be an exercise in catch-up.
That said, her final recommendation was a call to action for health advocates and regulators to continue the conversation on how to work with influencers, and importantly how to partner with the digital platforms to set up a framework where young people can be safe online.
---