The term "epic fail" – which usually refers to an embarrassing flop when accomplishment should have been reasonably straightforward – is sometimes a bit overused. It is however a fitting description of the Australian Federal Government's performance in alcohol policy over the past year.
The results of the 2014 National Alcohol Policy Scorecard released today, reveal that they are not alone on the podium of dismal efforts. The failure of several State and Territory governments to get serious about reducing alcohol related harm is also reaching epic proportions.
The National Alliance of Action on Alcohol (NAAA) first introduced the National Alcohol Policy Scorecard in 2013 as a way of assessing how well Australian jurisdictions are performing in their policy responses to reduce alcohol-related harm, and to highlight where their efforts could be further strengthened.
The scorecard doesn't rank jurisdictions by the extent of alcohol attributable health and social harm – that's another story! Instead, it compares the policy 'inputs' that governments have implemented in order to reduce alcohol related harm.
There is now a seriously robust scientific evidence base available to inform government policy making – one that details which legislative measures are most likely to be effective in reducing the alcohol toll.
Yet as the scorecard reveals, most Australian jurisdictions are taking an approach to alcohol policymaking which is bereft of scientific evidence, with only a few exceptions.
Sadly all jurisdictions in the country scored below a pass grade in alcohol policy in 2014. The Australian Federal Government was by far the lowest performing jurisdiction and in recognition of this has received the 2014 Fizzers award. The Federal Government score of only 9 per cent, a 20 percent drop on last year, is attributed to its deep cuts to existing alcohol programs and the inaction and delays seen in obvious areas of reform including tax, advertising regulations and product labelling. Perhaps most critically, the Federal Government scored poorly for its lack of leadership in delivering a National Alcohol Strategy, promised for several years now.
Despite the bleak picture reflected in the overall scorecard results, Australian governments do have some familiarity with success in the area of alcohol policy. For instance, the drink-drinking countermeasures introduced in Australia progressively since the 1970's have transformed our attitudes and behaviours, and massively reduced the number of fatalities and injuries from road crashes. The key ingredients to this public health success story has been a combination of legislative and policy reform, strict enforcement, and well-funded and sustained public education. We now recognise this as a proven formula for changing drinking culture in an Australian context, and it therefore comes as no surprise that drink-driving countermeasures is the one alcohol policy area where most jurisdictions do well in the scorecard.
The ACT Government topped the scorecard for the second year running with the highest score overall (48%). The ACT has been active in all areas of alcohol policy assessed and therefore did not receive any zero grades. Specifically, the ACT scored well for their measurable strategic plan, drink driving laws, treatment and early prevention programs, robust risk-based licensing fee structure and commitment to evaluation and improvement through its review of the Liquor Act.
The NSW Government received recognition for being the 'most improved' jurisdiction, improving their score by 10 percent (to 41%). This significant year-on-year progress is a testament to the major alcohol policy reforms introduced in 2014, with a range of practical measures that curb the level of drinking. These include the introduction of 3am last drinks and 1:30am lockouts in Sydney's CBD, bans on the sale of shots after midnight, a state-wide 10pm closing time for all bottle shops, a ban on high-risk promotions, and a community awareness campaign to address binge drinking.
Apart from the small successes seen in drink-driving countermeasures there are very few areas where alcohol policy is done universally well by Australian governments. Several jurisdictions now have a partial or whole-of-government strategic plan for the prevention and reduction of alcohol related harm, and several have sound data management and research programs. However, in order to have optimum value, these must be used to drive real policy action in the future.
Given there is so much room for improvement, it's tempting to suggest that almost any progress in any of the policy areas is welcome. However, priority should be given to developing policies in the areas which can have the greatest impact on reducing alcohol related harms.
On this basis, the NAAA is calling for a reform of the alcohol taxation system to deter risky drinking, greater controls on alcohol marketing and promotion to protect young people, and restrictions on the availability of alcohol in places where it is sold and supplied.
The NAAA strongly encourages the Australian Federal Government to provide leadership and strengthen alcohol policy at the national level, and for the State and Territory governments to proactively contribute to better protecting the community.
Here's hoping we are not headed for another fizzer of a year in Australian alcohol policy, and that these results serve as a reminder to Federal, State and Territory governments that now is the time to take action on alcohol.
Ranking of Total Scores, 2014 National Alcohol Policy Scorecard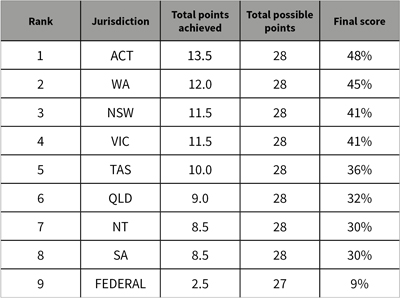 DOWNLOAD THE FULL REPORT: National Alcohol Policy Scorecard 2014 Results: Benchmarking Australian Governments' Progress Towards Preventing & Reducing Alcohol Related Harm