Yesterday, the Queensland Government announced its intention to introduce legislation to implement a 2am last drinks policy across Queensland.
This is a major step forward in the right direction for a government intent on making a real difference and stopping alcohol harm. The Queensland Government has shown genuine leadership in liquor licensing reform that will prevent and reduce alcohol-related violence, in the face of strong opposition from some parts of the industry – with Attorney-General Yvette D'Ath proudly stating on the weekend that "we are standing up against alcohol-fuelled violence in our community".
A comprehensive package to address alcohol harms
So why is this such a big deal after New South Wales has already taken a similar approach in Newcastle, Sydney CBD and Kings Cross?
What is most remarkable about this Queensland announcement, is that the policy will apply across the whole of the state, not just in selected areas or major entertainment precincts such as Fortitude Valley and the notorious Gold Coast.
Every pub, club and bar will be required to stop serving alcohol from 2am. The only exception to this new policy is venues operating in a Safe Night Out Precinct, whose Board has had their application approved to extend trading hours until 3am. In these instances, a 1am 'one-way-door' policy will apply. The one-way-door means that patrons who are out and about won't be able to leave the venue they are in and then enter (or re-enter) another licensed venue after 1am. However, they are able to stay inside the venue as long as it remains open, with last drinks served at 3am.
These modest trading hour restrictions will also be complimented with responsible service of alcohol restrictions, such as banning the sale and supply of high-alcohol content and rapid consumption drinks, such as shots, after midnight.
The language used by Queensland's Attorney General, Yvette D'Ath, is interesting, particularly the use of the term one-way-door policy instead of 'lockout'. She says this more accurately describes the policy and avoids the confusion associated with the use of the phrase lockout, where some people mistakenly believe it refers to the closure of venues. It appears that some parties may have tried to take advantage of this confusion to deliberately misrepresent the government's proposal. This might explain some of the opposition to the policy.
Strong opposition from industry interests
The government plans to meet with crossbenchers Billy Gordon, Shane Knuth and Robbie Katter later this week, and continue the consultation that has been underway since the government announced its intention earlier this year to introduce the measures outlined in their alcohol policy.
As you might expect, Queensland's licensed venues operators were not happy this announcement and a new alliance 'Our Nightlife Queensland' was established. Far from being surprised about the government's policy measures, licensed venues have been engaged in a campaign to undermine these changes.
FARE published leaked correspondence outlining the industry campaign's public relations strategy in July, which notably targeted the three crossbenchers as the key to preventing the measures from getting across the line and ensure that it is 'business as usual'.
Alcohol's human toll and the need for action
The Queensland Coalition for Action on Alcohol (QCAA), a coalition of health and community organisations, has welcomed this announcement. It revealed new data showing that alcohol harm in Queensland continues to rise, with a 24 per cent increase in alcohol-related emergency department presentations between 2009-12 and 2014-15.
---
---
These figures support the urgent need for action, and call out those that say Queensland is not like Newcastle, or that regions such as Cairns require a different approach to the city centre in Brisbane. In fact, Cairns Hospital saw a 35 per cent increase in alcohol-related harm over the same time period, and has the second highest proportion of alcohol-related emergency department presentations in the state.
---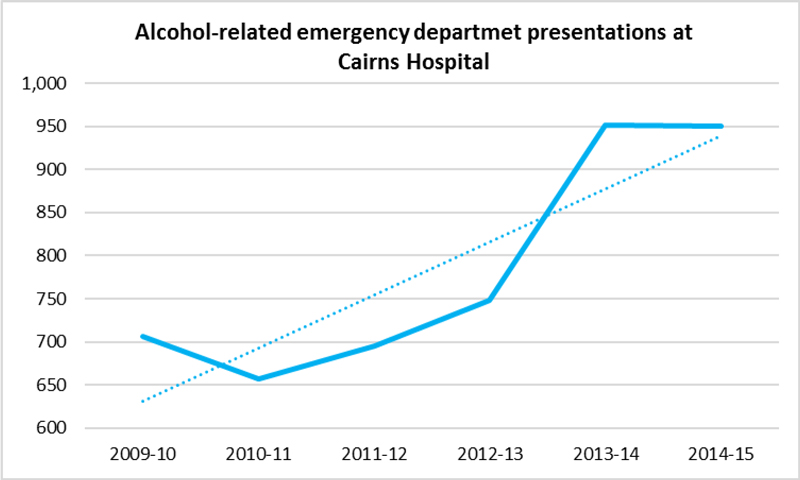 ---
For many of us these life saving measures can't be introduced quickly enough. The level of harm has been increasing and is widespread across the state. This harm will continue while the alcohol industry are able to successfully convince people that governments should ignore the evidence on the most effective measures to reduce alcohol harm, that venues should be able to trade well into the wee hours of the morning, that a vibrant nightlife requires late night liquor licences and that the viability of entertainment venues and commercial interests should be prioritised over the health and wellbeing of the public.
The Australian Medical Association Queensland (AMAQ), the Royal Australasian College of Surgeons (RACS) and QCAA highlighted the human impact of alcohol-related harm, citing the deaths, injuries and destroyed lives witnessed in emergency departments. This affects not only the individuals involved but their family, friends and the broader community, not to mention the emergency personnel who are left to pick up the pieces.
---
---
The data shows that nowhere in Queensland is immune from the harms caused by alcohol. Every Member of Parliament should take responsibility for ensuring that these measures are passed, because their success affects the health and wellbeing of each and every constituent. We should all join QCAA's call for bipartisan support for the measures which will bring about a safer and healthier Queensland.