There are few other sporting events that capture, and divide our nation like the State of Origin. This best-of-three rugby league series is hotly contended by the Queensland Maroons and the NSW Blues; State against State and mate against mate. Of the 35 full series played, Queensland has won 20 and NSW 13, with two series drawn. However, this blog is not about who the better team is, but rather, which team has the unhealthiest sponsors!
State of Origin is a highly watched spectacle with 4.423 million people watching Game One of the 2016 Series. The State of Origin attracts sponsorship from both national and international companies. It makes marketing sense…. if you want to reach a large audience this is a great opportunity to do it. What doesn't make sense is how the National Rugby League, the New South Wales Rugby League and the Queensland Rugby League think that it is okay to expose children and young people to alcohol and gambling advertising.
The Public Health Advocacy Institute of Western Australia (PHAIWA) is concerned because pairing a healthy activity, such as sport, with an otherwise unhealthy product, such as alcohol or gambling, makes that product seem less unhealthy and more acceptable and normal by association.
So which team has the unhealthiest sponsors?
We found eight exposures of unhealthy sponsorships on Queensland Maroons uniforms, compared to four for New South Wales Blues. Neither team had any healthy sponsorships displayed on their uniforms. This means that there will be over 4 million people exposed to unhealthy advertising during the series, including children.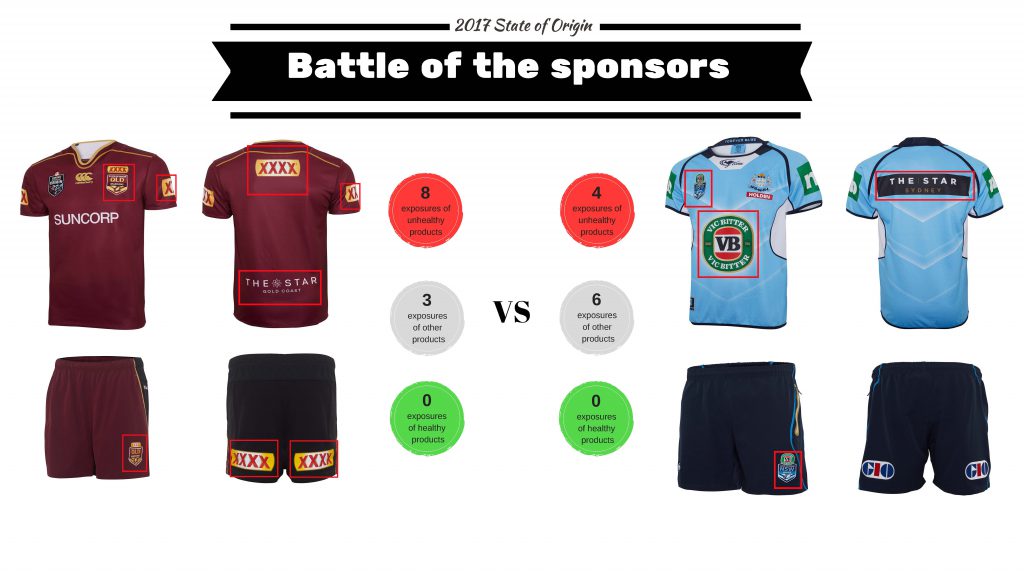 Today, history is repeating itself?
Prior to the 1992 Tobacco Advertising Prohibition Act (the Act) tobacco companies were able to advertise during sporting matches. It's been reported that in 1989, $20 million was provided to NSW Rugby League by the tobacco industry. One of the key reasons the Act was developed, was to address concerns over the impact of tobacco advertising on the public. Now we are experiencing the same issue but with a different set of toxic products – alcohol and gambling.
So what is the problem with children seeing alcohol and gambling logos?
There is evidence that children associate sporting teams with the products and companies which sponsor the team. Long-term studies have shown that 12 year-olds highly exposed to alcohol advertising are 50% more likely to start drinking when they are 13, than those who are only slightly exposed. A 2017 study, which reviewed the literature on the association between alcohol marketing and youth drinking, found that there was a significant association between youth exposure to alcohol marketing and subsequent drinking behaviour.
What's needed is changes to sponsorship regulation.
Alcohol and gambling industry advertising and sponsorship in sport and other settings, creates a culture where children perceive alcohol consumption and gambling as normal everyday part of life. PHAIWA believe that all sporting clubs should avoid sponsorship from any unhealthy brands, particularly if the sponsor is visible on a uniform.
It is pleasing to see recent proposed changes to the gambling advertising during live sporting events; however this doesn't go far enough.  The alcohol industry's self-regulation of advertising has been shown to not work, and stronger regulation is clearly needed. In the absence of regulation, alcohol and gambling companies should exercise responsible marketing practices and withdraw from sports sponsorship so sports consistently promote healthy messages to those participating and watching.
PHAIWA is a proud supporter of #BoozeFreeSport, a campaign run by FARE.
---
Become a BoozeFreeSport fan today. Let's protect our kids by removing alcohol sponsors from Australia's favourite games.
Change is possible, but we need your help to get there. Together, we can encourage Australia's favourite sports to give up alcohol sponsorship and to inspire and ignite change across all professional sporting codes.