"Getting kids involved in sport at an early age is one of the most important things sports associations can do."
So says the marketing blurb promoting the National Rugby League's Kate Chapman, Senior Marketing Manager – Brand & Communications who last week took the stage at the Mumbrella Sports Marketing Summit in Sydney to present on Inside the Making of Australia's Next Major National Junior Participation Program.
That children and their families are the lifeblood of national sporting codes, both as participants and fans, isn't news.
And it's not surprising that the NRL would double down on its efforts to encourage families to choose rugby league following another 12 months of abhorrent player indiscretions, criticism of its alcohol sponsorship and promotion, and the alarming headlines that the frightening spike in family violence incidents in NSW surrounding each and every State of Origin game over a seven-year period.
But it is impossible not to be cynical about the NRL's efforts to develop, launch and market its own version of Auskick and Net Set Go to get kids involved in NRL at an early age.
Not when at the same time it refuses to get its own house in order.
Not when the NRL refuses to walk away from its toxic alcohol partnership, and acknowledge its harmful impact on children.
And not when, as judged by the NRL Channel Nine State of Origin promotional video, the NRL appears completely unmoved by the horrific domestic violence being driven by its marque State of Origin contest.
A recent shopping trip served as a reminder both of progress, and of the huge gulf still to be bridged.
Children's State of Origin clothing on sale at a national retail franchise displayed no alcohol brands. And a visit to both the NSW Blues and QLD Maroons official merchandise stores confirms the same. However, the NSW Blues adult on-field shorts come complete with Tooheys New branding and the QLD Maroons adult shorts and jerseys carry the XXXX logos. The children's range in both stores, very rightly, carry none.
It wasn't always so. And it's a win to be sure.
But if it is understood and agreed by the NRL that children should not be dressed as alcohol billboards in mini-me sports gear, how can it still be okay to continue targeting kids and exposing them to alcohol advertising on free-to-air TV when the alcohol industry, the NRL and advertisers know full well that they will be watching.
Rather than walk away from, or even walk back, its commitment to toxic and dangerous alcohol advertising partnerships, the NRL appears hell bent on holding fast, even as its fan base bleeds and grows uneasy with every off-field incident and every unsavory and unflattering news headline.
The problem with sporting codes partnering with alcohol brands is the false connection that they attempt to establish between alcohol, sport and success, and in turn, the serious consequences alcohol has on young people and sports fans of all ages.
This is why Japanese-owned brewer Lion's State of Origin commemorative beer cans is a cause for concern.
While both the XXXX and Tooheys New collectible cans are insidious, it's the Tooheys New cans, complete with a caricature of the Tooheys Brothers Buck wearing a NSW Blues jersey, that is most problematic and takes us back three years to the equally wrong-headed decision by Lion's competitor Carlton United Breweries to dress up its cans as NSW Blues Jerseys and give away free cans as part of a Sunday Telegraph and the Woolworths owned BWS bottle shop chain cross promotion.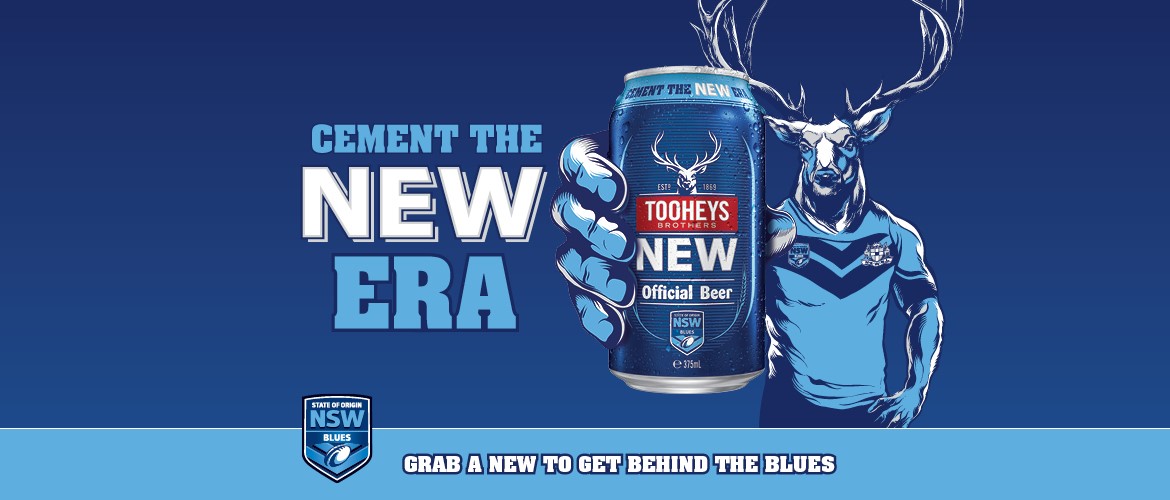 But perhaps, again, we should not be surprised.
The NRL appear destined, if not committed, to repeating its mistakes.
Last year, FARE research revealed an alarming association between domestic assaults and the State of Origin.
An analysis of six years of Bureau of Crime Statistics and Research data from 2012-17, found that in the hours from 6pm on State of Origin game night to 6am the following morning, assaults rose a staggering 71 per cent and domestic assaults rose over 40 per cent. However, there was no statistically significant change in the weeks either side of Origin night.
Last year's Origin was unfortunately promoted as "Nothing hits you like Origin".
But despite the comprehensive news coverage and negative headlines, the NRL seems unmoved.
Take a look at how Nine and the NRL chose to promote this year's State of Origin.
"It's time for the biggest and bloodiest battle on earth."
"The champion blues, ready to fight."
"The lethal maroons built for destruction."
This year's range of Tooheys New NSW Blues commemorative cans include hero pledges from six former NSW Blues players, including this pearl:
One of the commemorative cans references a "No Richard Head policy", it's a pledge the NRL might do well to consider.