The Australian Open is the world's worst Grand Slam tournament when it comes to alcohol sponsorship and for placing kids at risk of alcohol harm.
A review of official partners for each of the tennis Grand Slam tournaments (as listed on their respective websites) showed the Australian Open has as many alcohol sponsors (seven) as the other three tournaments combined; the French Open has one alcohol sponsor, the American Open has three and Wimbledon has three.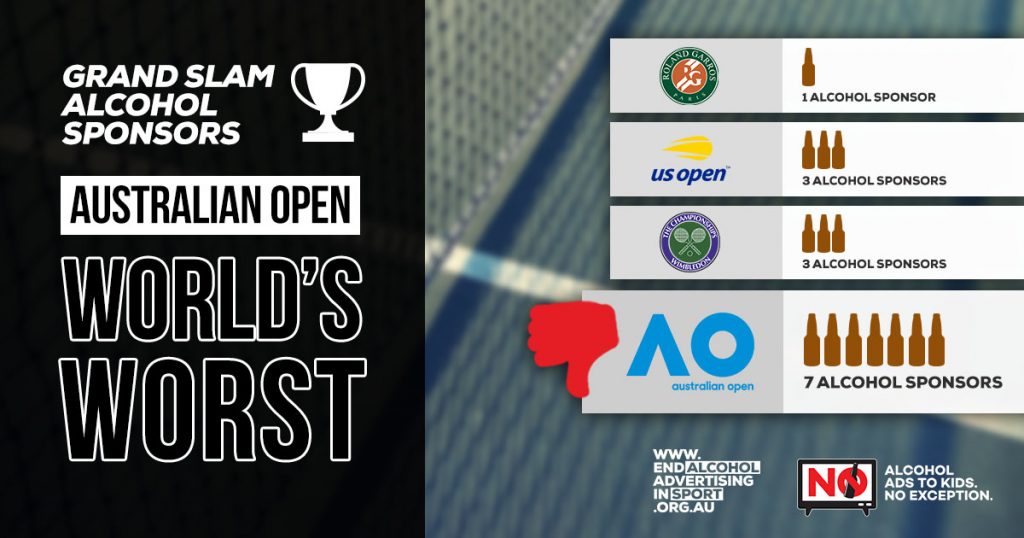 One factor that is likely contributing to the high number of alcohol sponsors at that Australian Open is the fact tournament organisers (Tennis Australia) maintain specific alcohol sponsorship categories each year, that are auctioned off to the highest booze bidder.
Categories of 'Official beer sponsor', 'Official dark spirits sponsor', 'Official champagne sponsor' and 'Official Cider sponsor' sound like the sponsorships of a nightclub or bar, not for a professional sporting event watched by millions of impressionable children.
What Tennis Australia is failing to realise, is that when it comes to alcohol ads, this is not a game. Exposure to alcohol advertising places children at greater risk of drinking earlier and at more dangerous levels than they otherwise would.
And to make matters worse, statistics show that the consumption of alcohol contributes to the three leading causes of death young Australians: unintentional injuries, homicide and suicide.
Making a stand
Last year former Australian tennis player and commentator John Alexander made clear he has had enough of the plethora of alcohol ads which plague the Australian Open and other professional sports, and he has decided to make a stand.
Alexander signed up to be a Campaign Champion of End Alcohol Advertising in Sport and has openly questioned why professional sports which are the pinnacle of health and activity, continue to promote an association with alcohol despite it doing so much harm.
After last year's tournament, Alexander wrote:
We want children to be inspired to play sport. Staying active in youth is the easiest way to stay healthy as an adult. We need to champion sport and make it accessible and safe for all children.
There is indisputable evidence that children's exposure to alcohol advertising encourages them to start drinking earlier, to binge drink more often, and to start a journey toward alcohol-related harm.
This is not fair. We need to stop perpetuating a positive association between alcohol and sporting heroes.
Baseball Australia's CEO Cam Vale echoed the words of John Alexander when he called out sports poor fit with alcohol, saying "Alcohol branding, for our industry, doesn't make sense and isn't a natural fit."
"We're all promoting to families, and particularly to junior participants, and we all largely live in a very high-performance environment."
Baseball Australia was brave enough to put the health of their young supporters first – becoming the first major Australian sporting code to renounce alcohol sponsorships, and Vale hopes their leadership will inspire other sporting codes to follow.
"It's a big issue I think for all sports to be considering," Mr Vale said.
No alcohol ads to kids, no exception
We know alcohol advertising is harmful for children to see, that's why they're banned from being shown during children's TV viewing hours. But there is an exemption in Australia's free-to-air television code which allows alcohol ads to be shown at all hours of the day when sport is televised.
The harmful effects of this exemption are amplified during summer sports (tennis and cricket) which start early in the morning – around 11am (three hours earlier for West Australians) – they are televised for long periods of the day, and they are on during school holidays.
We also know is that the alcohol industry is keen to advertise to minors to recruit their drinkers of tomorrow. Alcohol industry documents have revealed that brands have used market research data on 15 and 16-year-olds to guide campaign development, target their products and advertising to attract new drinkers, and encourage people to drink early and drink often.
And the alcohol industry's desire to target minors with marketing is only getting worse.
At the end of 2019, the Australian alcohol industry racked up a record amount of advertising breaches, mainly due to their products using imagery that appeals to minors.
It's time to end alcohol advertising in sport.
The Australian community has had enough of alcohol advertising in sport and the drums are getting louder for sporting executives – like those at Tennis Australia – who for too long, have been chasing short-term dollars over the long-term health their fans.
More and more people are signing up to the End Alcohol Advertising in Sport campaign every day. In a little over a year, there are already over 15,000 supporters.
As the movement grows, the first step is to remove the free-to-air exemption, which allows alcohol ads to be broadcast during children's viewing hours during sport. After that goal is achieved, our sights will be on removing alcohol sponsorships from sport altogether.